From: Therese Thomas Subject: WWB quilts and Family Day August 2010
To: Theresetax@sbcglobal.net
Date: Monday, August 23, 2010, 4:49 PM
Last Thursday there was another Family Day at the Wounded Warrior Battalion – West at Camp Pendleton. This time they held it along the shores of Lake O'Neill. (You know I've never asked about the origin of the name of the lake – another task on my to-do list!) There were tables set up for all the wonderful and generous folks and organizations that support the WWB. Everyone had brochures, handouts and one table was overflowing with wonderful stuffed animals. Then there was the table of Therese Thomas, the Quilt Lady and The Tax Lady. I had a groaning repast of wonderfulness, all of which was donated and sent by your generous hearts. Books, toys, coloring books. Crayons, markers, books for moms, books for tweens, a whole stack of story books in comic book size of Christian education – old and new testament tales. I had a helper – Dan B. from U.K. who was over on a week of R&R from the British Marines. He was visiting my brother who was having a medical procedure that day and so I got to drag him through Camp Pendleton and see the support for the Marines in the WWB.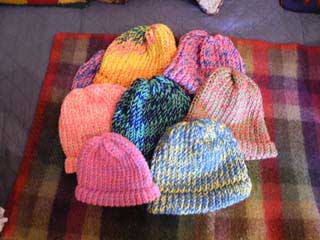 You will notice this newsletter that the photos are significantly smaller in size. Finally one generous and brave soul mentioned to me that the emails were getting too large and couldn't be viewed well. I sized the pictures down to "PC Format" according to my camera. Now you should be able to view everything and actually open the email with significantly less difficulty. Thanks you to the person who notified me of the issue. (Everything looked just "fine" from my end, just don't know what you were talking about……..right!)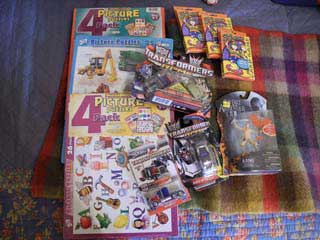 Books and pillowcases and crayons and trucks!!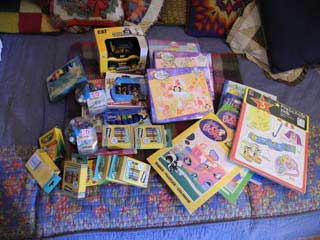 And Mr. Potato Head!!
Most of this bounty came from the generous folks at the Santa Rosa Quilt Guild. They had a member driving down to her son's graduation at Camp Pendleton from the Devil Dogs. Her car was stuffed and "had" to be unloaded so his ditty bag would fit in for the return trip home . There was a huge box filled with coloring implements which was not taken to this Family Day and will be used for Christmas gifts by the Family Readiness Officer. There were books and toys from two boxes sent from Terri G from Solon Ohio. She has entirely too much fun shopping on her lunch breaks for those great special item toys and books.
The USMC kidlets were so polite!! So many of the other tables had adult things. This table was a nose height and brimming with wonderment. It was difficult to convince them that they really could have TWO items. One little boy spotted the two plastic trucks. That little hand was so fast that you could almost not see it extend, grasp and retract. Then I asked him which color of truck he preferred. He looked, hemmed, hawed and decided that his first instinct was the right one and marched away proudly bearing his prize.
The SRQG has a member who also crocheted these wonderful stuffed lambs, which are being held by the Family Readiness Officer for a special case need: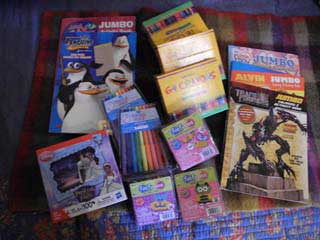 Just the right amount of stuffing to make them capable of sitting upright, but squishy and soft and WONDERFUL.
They also sent four big and beautiful quilts.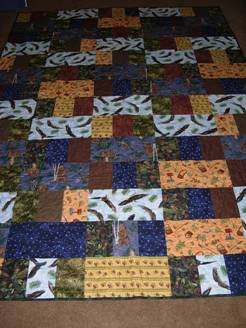 Great masculine colors and combinations.

Patriotic combinations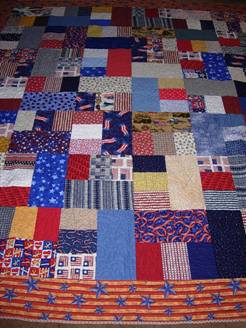 I looked at some of these fabrics and all I could say was where WERE those fabrics when I was looking??? (as if I need to buy any more fabric anyway…..)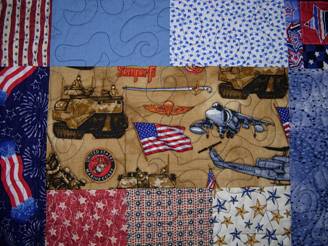 The Marines really like these fabrics that relate to them specifically!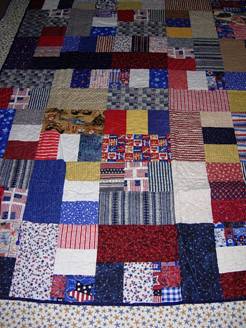 This fourth SRQD had a large number of pieces with sparkly elements –again, where were these when I looked??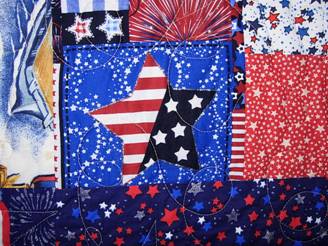 Then Kate Q from Virginia sent a box with two great quilts: Morning Star and Drunkards Path!!
What a classic and beautiful quilt! So good so see these old patterns are still being made….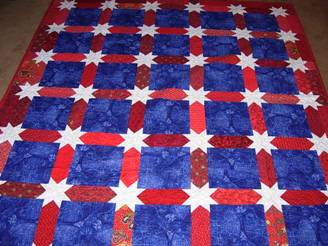 Every one of these quilts was beautiful, well made, nice patterns and combinations of fabrics and LARGE!! When I was at the WWB the other day I saw four large stacks of quilts I'd never seen before. I was told they were dropped off by some nice ladies – BUT every one of them was a lap quilt. There are NO wheelchair guys in the WWB and so there is no need for lap quilts. The Marines weren't quite sure what to do with the generous donation (but I got an email this week about the VA specifically needing lap quilts so we now know where they will soon live!). Thank you so much for your paying attention to the need for larger quilts…..suitable for these full/double beds at the Battalion.
While sitting at the table for Family Day I realized that with the influx of new residents since the opening of the new barracks, I only recognized one in four faces. Guess I'll have an extremely busy time this next tax season?!?!?
I've been asked once again to send a hearty thanks from the residents and administration of the WWB to each and every one of you who reads these emails. Even directing good thoughts and support to the WWB is appreciated, as are the kidlet goodies and in particular the quilts. Blessings, kudos and a virtual can of brasso to polish your halos??
Therese Thomas
The Quilt Lady
The Tax Lady
30457 Valley Center Rd
Valley Center CA 92082
760-749-3794