Our Guild is dedicated to preserving this country's quilting heritage through the education and enhancement of quilt-making skills. Our members have a love of quilting and all things quilt-related and welcome those who have similar interests. Since 1976 we have grown from a small group of founding members to 280 and growing!
Scroll down to see the current year calendar of activities.


The Santa Rosa Quilt Guild creates an opportunity quilt every year which is raffled to generate operating funds that support the guild and its community outreach. Tickets are available during guild meetings and at various functions throughout the year, such as the Sonoma County Fair and the Moonlight Quilters' of Sonoma County Wine Country Quilt Show.
Introducing Cosmic Universe, the 2015/2016 Opportunity Quilt presented by the Santa Rosa Quilt Guild.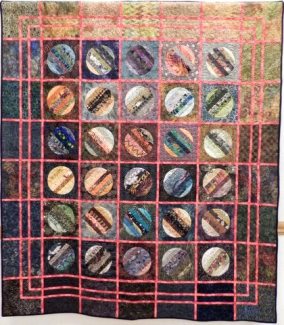 The pattern for this beautiful quilt was created by Melody Crust, of Kent, Washington and displayed in the November 2002 Quilters Newsletter Magazine. Permission was kindly granted by Ms. Crust for the Santa Rosa Quilt Guild to make its opportunity quilt using her design.
Santa Rosa Quilt Guild members Kathy Rathbun, Lorna Fiori, Vivian Valencia and Elizabeth McDonnell made the quilt, pulling fabric from their stashes. They also visited local stores to add to the variety of batiks utilized. The circles in the quilt were machine pieced and then hand appliquéd. The quilt measures 64 ½" x 74 ½" and was made with a black polyester batting.
Gery Rosemurgy, owner of Broadway Quilts in Sonoma, generously donated the backing fabric. Betty Upchurch of the Santa Rosa Quilt Guild machine quilted Cosmic Universe and fittingly named it.
We hope the lucky winner of this quilt will cherish it as much as all of those who tendered this mystical Cosmic Universe.
The drawing for Cosmic Universe will take place April 7, 2016, during our guild meeting.
Click here for a more detailed story of Cosmic Universe.
To learn more about what we offer, and how you can become a member, visit our About Us page.
Several quilt-related businesses are members of the Santa Rosa Quilt Guild and many offer discounts. To see a list, click here.
Our Guild's Membership Handbook can be viewed online using the link below.
Santa Rosa Quilt Guild Membership Handbook
Note: This is a large file, please be patient as it downloads.
ADOBE ACROBAT READER is required to view the above document. To download a free copy or to upgrade to the latest version of Adobe Acrobat click here

January 2015
Jan 1 - No meeting - Happy New Year!

Jan 15 - Install Officers
TSW: "Wool Felt Applique" - Diana Roberts
Sew-a-row: Starter rows due

Jan 27 - Pointless Sisters
Jan 29 - 5th Thursday Retreat
Luther Burbank Art and Garden Center
2050 Yulupa, Santa Rosa
---
February 2015
Feb 5 - General Meeting
Quiltathon
Sew-a-Row Sign-ups
Guild Challenge Introduced

Feb 19 - Program: Merrill Lee West "Trunk Show"
TSW: "Machine Binding w/Accent Flange" - Pam McVey
Feb 20- Workshop: "Bargello Heart"
Feb 13-16 Cloverdale Citrus Fair
Feb 24 - Pointless Sisters
---

March 2015
Mar 5- General Meeting
UFO Challenge starts
TSW: "Prepare Quilt for LongArmer" - Gari J, Barbara Y, Joanie B

Mar 19 - Program: Pamela Day "Trunk Show-Bags"
TSW: TBD
Mar 20 - Workshop: "New Yorker Bag (4 styles)"

Mar 7 Tri-Guild Luncheon (MQSC)
Mar 24 - Pointless Sisters
---
April 2015
Apr 2 - General Meeting
TSW: "Judging Tips" - Elizabeth Marrs
Sew-a-row: Row 2 due
Opportunity Quilt Raffle
Valley of the Moon - Community Quilts (Meg E-D.)

Apr 16 - Jennifer Rapacki "Creativity Unleashed"
TSW: "Community Quilt Tips" - Pam Beebe/Anne Dondero
Apr 17 - Workshop: "PhotoShop Elements and EQ 7"
Apr 28 - Pointless Sisters
Apr 30 - 5th Thursday Retreat
Luther Burbank Art and Garden Center
2050 Yulupa, Santa Rosa
---
May 2015
May 7 - General Meeting
Quiltathon

May 21 - Progra: Mark Lipinski "Quilting Duckling to Quilting Swan"
TSW - "Judge´s Tips for Competition Quilts" - Elizabeth Marrs
May 22 - Workshop: "Lemon Cathedral"
May 26 - Pointless Sisters
---
June 2015
Jun 4 - General Meeting
Sew-a-row: Row 3 due
TSW: "Take-Along Sewing Kit" - Carol Behlke

Jun 18- Program: Sylvia Pippin "Sashiko/Applique Trunk Show"
Award Nominations Due
TSW: TBD
Jun 19 - Workshop: "Wild Flowers"

Jun 6-7 MQSC Wine Country Quilt Show, Santa Rosa
Jun 23- Pointless Sisters

---
July 2015
Jul 2 - General Meeting
Sewing Room Sale

Jul 16 - Program: Catherine Redford "Lessons Learned by Quilting"
TSW - TBD
Jul 17 - Workshop: "Walking Foot Quilting: Beyond the Ditch"

Jul 28- Pointless Sisters
July 22 - Aug 9 County Fair
Jul 30 - 5th Thursday Retreat
Luther Burbank Art and Garden Center
2050 Yulupa, Santa Rosa

---
August 2015
July 22 - Aug 9 County Fair
Aug 6 - General Meeting
Guild Challenge Due
Sew-a-row: Row 4 due
Aug 2-7 Guild Retreat Lake Tahoe

Aug 20 - Program: Debbie Caffrey "How to Have it All"
TSW - "Fat Quarter Placemats" - Barbara Cortelyou
Aug 21 - Workshop: "Power Cutting & Power Cutting 2"

Aug 25- Pointless Sisters
---
September 2015
Aug 30-Sept 4 Guild Retreat Lake Tahoe

Sep 3 - General Meeting
UFO Challenge due
TSW - "Quilt As You Go" - Jim Jensen

Sep 17 - Founders Day Potluck
Guild awards presented
Sep 22- Pointless Sisters
---
October 2015
Oct 1 - General Meeting
Quiltathon
Officer Nominations Announced
Oct 15 - Program: Jennifer Sampou "Designing Fabric"
TSW: "Yoyos For You!" - Sharon Fry

Oct 15-18 PIQF
Oct 15 Bus Trip to PIQF
Oct 27- Pointless Sisters
Oct 29 - 5th Thursday Retreat
Luther Burbank Art and Garden Center
2050 Yulupa, Santa Rosa

---
November 2015
Nov 5 - General Meeting
Voting 2016 Officers
Present 2016 Budget
Craft Fair
Sew-a-row: Final Row due

Nov 19- Program: Vicki Johnson "Breaking the Rules"
TSW: "20-Minute Table Runner" - Mary Ann Hayre
Nov 20 - Workshop: "Easy Fabric Printing"

Nov 24- Pointless Sisters
---
December 2015
Dec 3 - Holiday Potluck
Sew-A-Row Show/Lottery
Vote on Budget

Dec ?? - Joint Board Meeting
(date to be determined)