The Santa Rosa Quilt Guild
2018-2019 Opportunity Quilt
"

Our Town, New Growth, Resilience!

"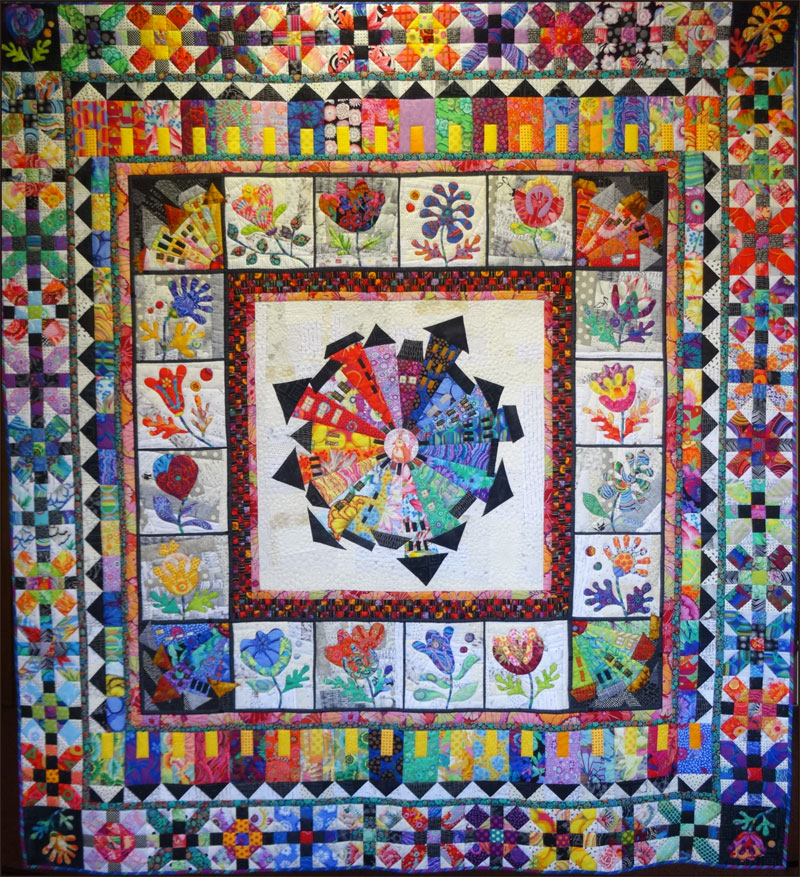 Making the guild's Opportunity Quilt is an honor...and an incredibly daunting task! Our dear president, however, has his ways - and by waving gorgeous Kaffe Fassett fabrics under our noses, we agreed to make the quilt.
We both love bright colors, impromptu design, and a mix of as many fabulous fabrics as possible. Neither of us can follow a pattern - at least not for very long. Our points are usually cut off, our 1/4 inches are *close*, and our quilts never know what they will look like when completed! This one is no exception.
We started the center with Kim Lapacek's (http://www.kimlapacek.com/) "Dresden Neighborhood."
The checkerboard surrounding the neighborhood was our nod to careful, small piecing - so many little pieces! Enough of that!
We next decided we needed to have flowers, lots of flowers. Kim McLean's "Flower Garden" (GloriousColor.com) flowers were a perfect choice. We had to resize them and then the fun of choosing all the colors and fabrics for these fanciful flowers began. What fun these were to make!
As is our usual way of working, we then stood back, thought about the quilt, the neighborhood, the gardens - and so added the houses all around.
Finally, the Japanese X and O blocks just seemed to be a good *border*.
We then asked Marian Drain to work her magic and do the wonderful custom quilting that we know she does so well.
We created this quilt before the devastating fires ... it was, in fact, one of the very precious items kept packed up and ready to evacuate! Now, we look to the future and the rebuilding of our community. We see the support, love and care shown by our neighbors for all who have been affected by this tragic event. This quilt seems to symbolize this. Bright colors, flowers, homes, neighborhoods and love throughout the community.
We love this quilt - and we love our community. Genelle and Lori
Archives
The links below contain photos and information regarding our past Opportunity Quilts.
It is a lovely walk down the SRQG history lane. Some of the quilts have more information than is shown and can be found in the Opportuniy Quilt pink binder that lives in our guild library. These are large files and may take an extra few seconds to download.
1976 through 1986
1987 through 1995
1997 through 2006
2007 through 2016