The Santa Rosa Quilt Guild
2021-2022 Opportunity Quilt
"Fiesta"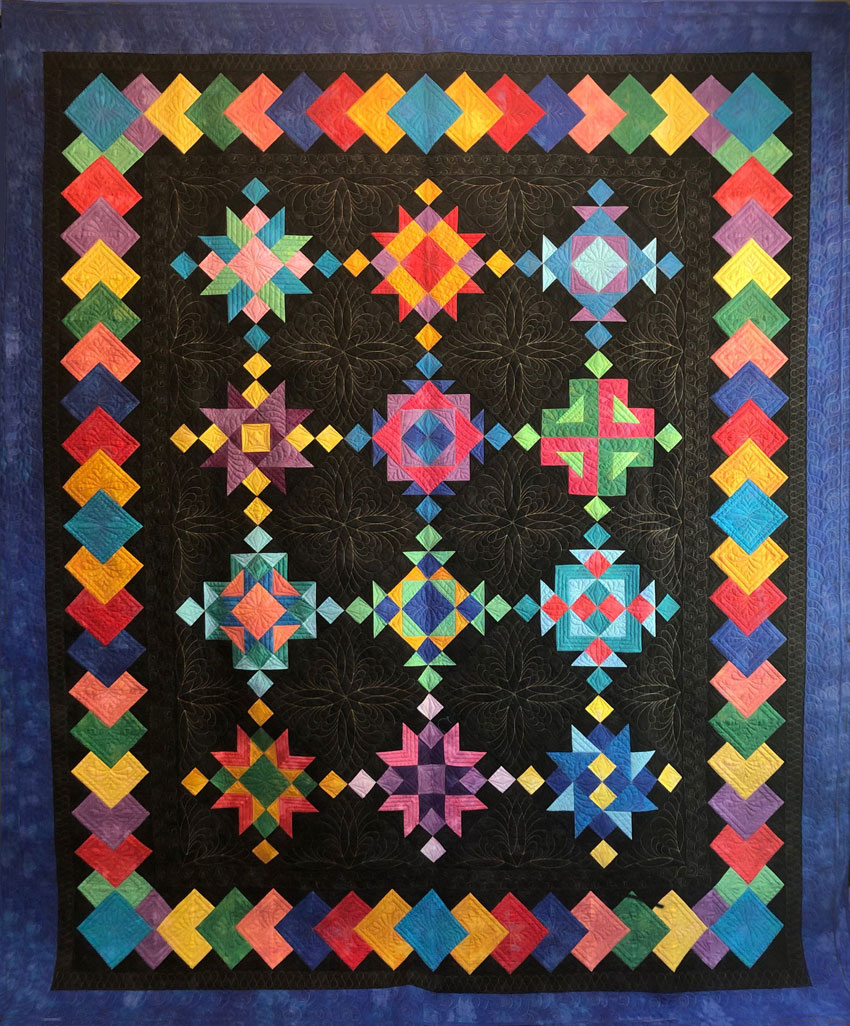 FINALLY!! OUR 2021-22 OPPORTUNITY QUILT: "FIESTA"
Only a year late but we are finally ready to reveal our quilt. You can see it at our meeting on April 1st and in the newsletter.
In 2019 our guild challenge was to make something quilted with the theme of fiesta….hence the title of the quilt.
Several members of our guild worked on this quilt and put their expertise to task over several months in 2019. The pattern chosen was called "A New Age" by Nancy Rink (who is a pattern and fabric designer) who gave us permission to use the pattern. We decided to make it in bright grunge colors surrounded by black. The large black blocks were ideal for some fun quilting. Jan Nilsen coordinated the crew who made all the blocks and Jan then put the quilt together. It was then taken to her friend Jessica Gamez at "Jessica's Quilting Studio" in Carefree, AZ. Jessica is an award winning long arm quilter who began using the long arm to help her mother around age 12. She was smitten and has never stopped quilting since. She has a beautiful studio with 2 long arm machines and racks of quilts to be quilted. Quilters from all over the country and some overseas send her their quilts. Many of the quilts are entered into shows and receive awards for the quilting. She is also a long arm teacher. She uses the title of the quilt to create a pattern that fits the quilt and it is always amazing to see what she comes up with. I love what she did with our "fiesta" quilt.
Members who made "Fiesta": Jan Nilsen, Jan Andrews, Janet Tonkin, Margo Pitter, Jana Ulmer, Vicki David, Nancy McDermott, and Janice Rodgers who made the label.
I hope we can meet soon so you all can see the quilt in person. More on tickets, places to display, etc. to come.
Jan Nilsen

Archives
The links below contain photos and information regarding our past Opportunity Quilts.
It is a lovely walk down the SRQG history lane. Some of the quilts have more information than is shown and can be found in the Opportuniy Quilt pink binder that lives in our guild library. These are large files and may take an extra few seconds to download.
1976 through 1986
1987 through 1995
1997 through 2006
2007 through 2016