HAPPY HALLOWEEEEEEEEN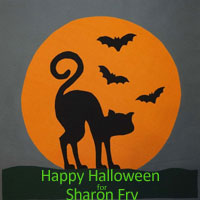 Click here for a printer friendly page.
HAPPY HALLOWEEEEEEEEN
Friendship Block Request for Sharon "the Librarian" Fry
Yes ~~ HAPPY is the key word here. I prefer happy, cheerful, fun, silly, cute Halloween designs rather than gruesome.
And HAPPY you will be making a block as it may be anywhere between 6 and 12.5 inches – rectangular or square. For example: if your block comes out at 8.75 inches by 10.25 inches, that is perfectly OK as I am going to frame the blocks and then have a good time putting the pieces of the puzzle into a sampler quilt for my great room wall.
Choose an idea from a guild library book, Pinterest, or create your own design.
Think black cats, witches, Sunbonnet Sue in costume, ghosts, spiders and their webs, ravens, full moons, containers of candies, haunted houses, Jack-o-lanterns, whatever.
Add words to your block, if desired (such as: BOO!, Happy Halloween, Trick or Treat, Spooktacular).
Any technique is fine with me (pieced, appliqued, foundation pieced).
Traditional oranges and black are not the only colors you need to choose from. Think purple, cheddar yellow, ghostly white, and lime green, too.
Embellishments are encouraged (buttons, rick rack, beads, trims, embroidery . . .). If you have extra embellishments that you don't know what to do with, I would love to have them to decorate my quilt.
While pawing through your fabrics, if you come up with some extra Halloween-themed pieces to share with me I will incorporate them into the pieced border.
As with all works of art, I really, really, really would like for you to sign your block on the FRONT. I carry marking pens meant for fabric in my guild tote bag.
Deadline: the end of the guild meeting on Thursday, October 19, 2023. Turn your block in to Jeanne Parent so that she can record your block for a Friendship Block credit, then she will have Linda Hooper photograph your piece of art for our Friendship Block page on the guild's website.
Act quickly and sign up with Jeanne Parent, Chair of the Friendship Block program, to be one of the 20 people to make a HAPPY Halloween block for me. Jeanne Parent: jparent46@gmail.com
I cannot wait to start playing with the Halloween blocks. Friendship Quilts are my favorites!
Sharon 'the Librarian' Fry