Just woke up from a week of recuperative power naps and **finally** am getting this newsletter out. The last tax trip I made to WWB was on the day before deadline and also got some beautiful quilts delivered. Janis T of Thousand Oaks CA sent two beauties.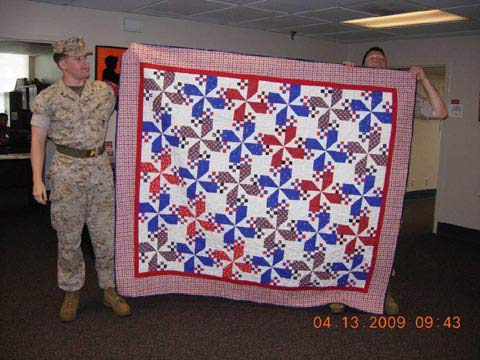 Yes, I know the date on my camera is wrong…have fixed it now AND eliminated that irritating option. This quilt was really liked for the RW&B theme. ''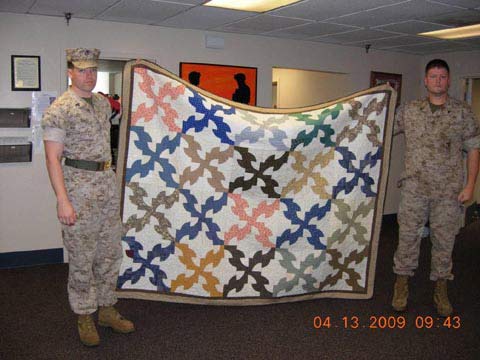 The second that Janis sent. I like how a very little fabric can be incorporated into a really pretty scrap theme.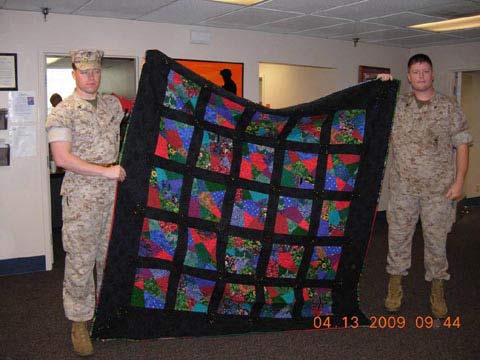 These dark background quilts always remind me of stained glass windows in church. This was sent from Fairfax VA, but the quilter didn't send me her name!!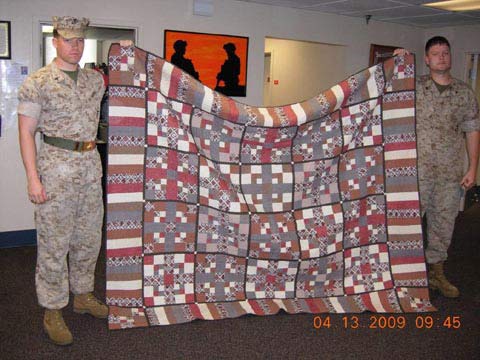 Ellen Hough of Bremerton WA sent this one. My mom used to use these muted tone colors a lot and somehow I've gotten away from the, but look how gorgeous they work up!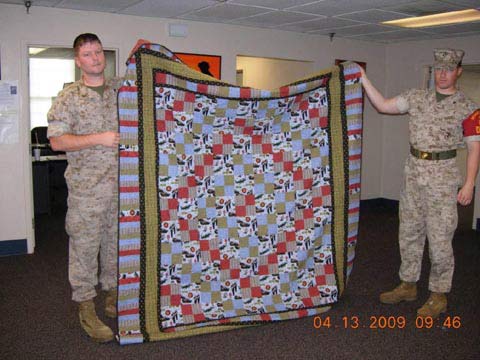 Bev L of the Material Girls from Discovery Bay CA sent this one – did you see the USMC theme material used? The Marines sure did….this one went right on a bed, swapped out for the one originally placed on his rack.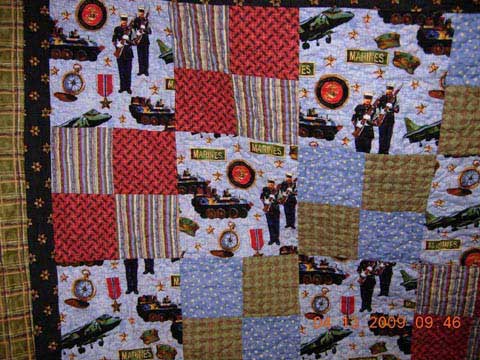 Close up shot of the USMC fabric.
Remember when I promised to sent out shots of the quilts made by the Santa Rosa Quilt guild? Finally found them!! No, the quilts didn't disappear, just my photos. Chalk it up to tax season madness I guess?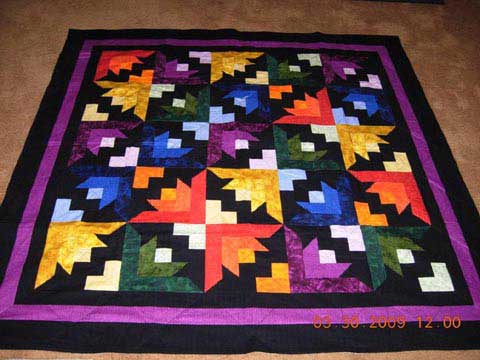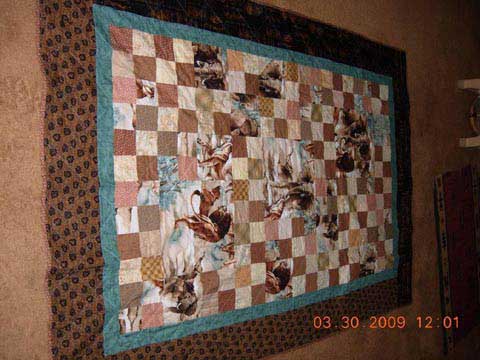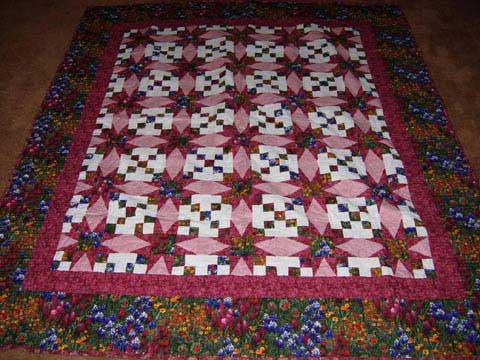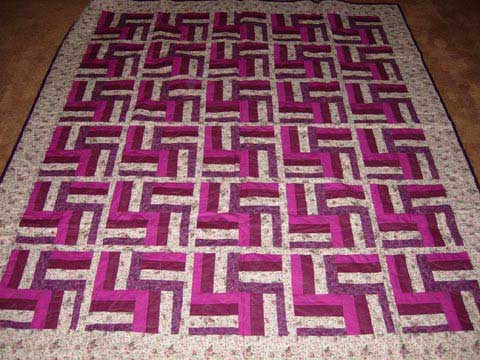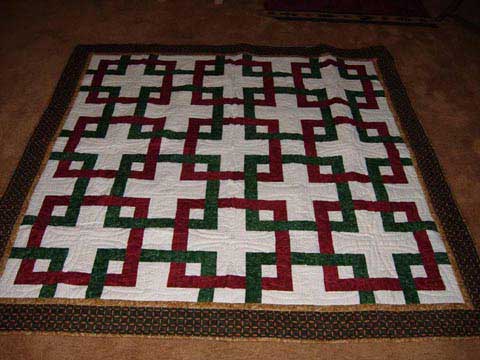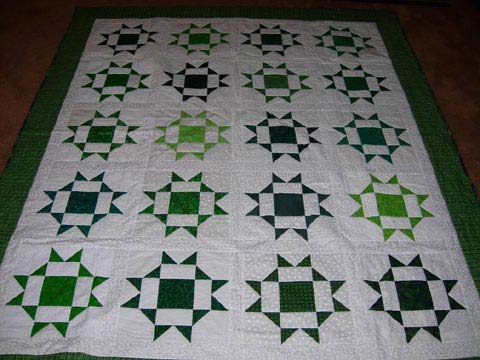 I really like the use of white on white fabrics!
The first two of these quilts from the Santa Rosa quilt guild are already on beds. One Marine family came to the house to have their taxes done, as medical appointment schedules wouldn't allow them to go to the Battalion when I was there. The wife so impressed me with her unflagging support of her husband. She had to be the strength and backbone of their relationship as his TBI caused so many complications in their lives. Sadly, in doing taxes at the Battalion, I find out how **many** of them are going through divorces. This lady was keeping their family together with love and patience. Found out they had two small boys at home, so those two quilts, which were smaller in size, went home to the two small Marine boys. The wife left my house in tears at the support to their family and her efforts to keep them all together. Some of the quilts received aren't the 80 x 100 that fit best on the full/double beds, but there are small Marines needing bed covers, too. Her reaction emphasized the point that physical warmth provided by the quilts is important, but the show of care from civilians all over the country is in many cases more important to mental health and recovery of these wounded Marines and their families.
Thank you again to all of you who have given so much of your time, talent, treasure and finances to the project of keeping USMC beds covered at the Wounded Warrior Battalion. The ripples you cause in the healing of these young men and women cannot be measured easily, but is true and important. One mother came with her son to my home for taxes and she hadn't heard of the quilt project. She also left in tears at your efforts, and comforted at some of the other efforts besides what the USMC provides towards healing of her son and all the other residents.
Now that tax season is over the virtual padlock has been removed from my craft room!! I'm working on binding the quilts that Seelye from the Escondido church gave to the WWB. Sometime this next month I'll make my first non-tax run with those quilts and check on the progress of the guys. Maybe even I'll have some garden bounty to share with them?
Therese Thomas
Enrolled Agent
Thomas Tax Preparation
30457 Valley Center Rd
Valley Center CA 92082
(760) 751-2542 (home office)
(760) 749-3794 (home)
(760) 860-5301 (fax)
(760) 803-4299 (cell/text) Phone doesn't ring in the house but texts arrive