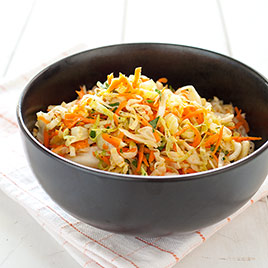 This recipe, brought by Chris Nolen, was a hit at our last guild meeting.
Please see tips and notes at the bottom for a succesful dish.
Ingredients
Serves 4
1/3 cup apple cider vinegar, plus extra for seasoning
2 tablespoons vegetable oil
3 tablespoons juice plus 1 teaspoon grated zest from 1 orange
1/4 teaspoon pepper
1/2 large green cabbage (about 1 pound), core removed, and shredded fine (about 6 cups)
Table salt
1/4 cup sugar, plus extra for seasoning
1/2 small fennel bulb, cored and thinly sliced (about 1/2 cup) plus 1 tablespoon minced fennel fronds
1/4 cup golden raisins
Instructions
1. Combine vinegar, oil, orange juice, and pepper in medium glass or metal bowl. Place bowl in freezer until vinegar mixture is well chilled, at least 15 minutes and up to 30 minutes.
2. While mixture chills, toss cabbage with 1 teaspoon salt and sugar in large microwave-safe bowl. Cover with large plate and microwave on high power for 1 minute. Stir briefly, recover, and continue to microwave on high power until cabbage is partially wilted and has reduced in volume by one-third, 30 to 60 seconds longer.
3. Transfer cabbage to salad spinner and spin cabbage until excess water is removed, 10 to 20 seconds. Remove bowl from freezer, add cabbage, orange zest, fennel, fennel fronds, and raisins to cold vinegar mixture and toss to combine. Adjust flavor with sugar or vinegar and season with salt to taste. Refrigerate until chilled, about 15 minutes. Toss again before serving.
Notes: Why this recipe works
To keep our coleslaw recipe crisp, we needed to find a way to make the cabbage shed its excess water. Our usual technique involves salting the cabbage for a few hours, but we were determined to speed up the process. We discovered that sugar, which we were already including in our coleslaw recipe, has the same effect on cabbage that salt does. Microwaving a batch of shredded slaw that we'd tossed with salt and sugar made it shed the same amount of liquid that it had taken three hours to release at room temperature. Cooling down our cabbage was easy: We simply chilled the dressing and then refrigerated the finished coleslaw for a few minutes.
Tips:  Do not use a pre-shredded coleslaw mix with this recipe; its texture and flavor are inferior to fresh cabbage. If you don't have a salad spinner, use a colander to drain the cabbage, pressing with a rubber spatula to remove all excess liquid. When it comes to the sweetness level of coleslaw, tastes vary. For this reason, prepare the coleslaw as directed and then season to taste with up to 2 teaspoons of sugar or up to 2 teaspoons of vinegar, adding one teaspoon at a time.
Recipe and photo from From Cook's Illustrated.