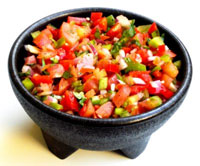 Asparagus Mango Salsa
1 lb. Asparagus
8 Roma tomatoes
3 Mangoes (not to soft)
3 Jalapeno peppers
1 Bell pepper
3 bunches green onions with tops
1 bunch cilantro
Chop all ingredients and mix with:
1 cup seasoned rice wine vinegar
½ cup white rice wine vinegar
6 packets of equal or sugar to taste
This is the original recipe and makes 10-12 cups
For the luncheon I added white onions and tomatillo tomatoes
And eliminated the sugar and equal and used only seasoned rice wine vinegar. Good without the asparagus when out of season and expensive. Mangos can be reduced to one or two.
Garlic also can be added if desired.
Enjoy!