Made another quick run to the Wounded Warrior Battalion on Wednesday. I had
set this up as a leisurely trip but forgot that I was in Las Vegas for the
National Finals Rodeo the day prior….so I was very tired. As a result I made
two mistakes, which will be explained and your indulgence begged. I had
received a large box of quilts from the Simi Valley Quilt Guild, known as
the Material Girls. As I packed the truck for departure I grabbed the quilts
from the packing material – and didn't realize there was a third quilt in
the bottom, sigh. So two of their pretty quilts were delivered and another
will be taken on the next trip. Mea culpa?
Had really good seats for the rodeo – eh?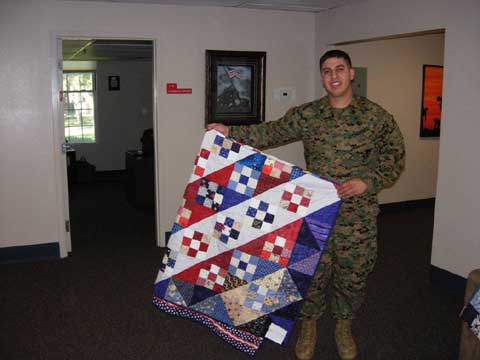 This quilt was significantly larger – it was folded!! This Marine had just
arrived at the unit and was so excited to have first pick of a cover for his
bed. This was one of the Material Girls' quilts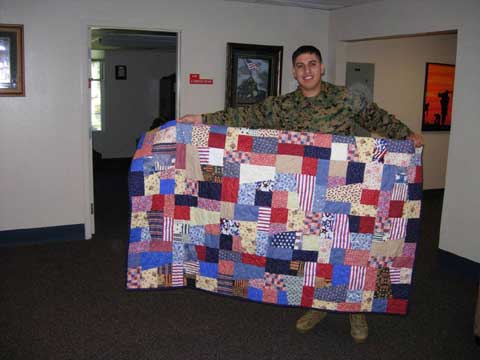 Jane R from San Diego met me at the local machine quilting shop and dropped
off this quilt. It was folded in the photo, so was much larger. Love the
RW&B in the non-square blocks.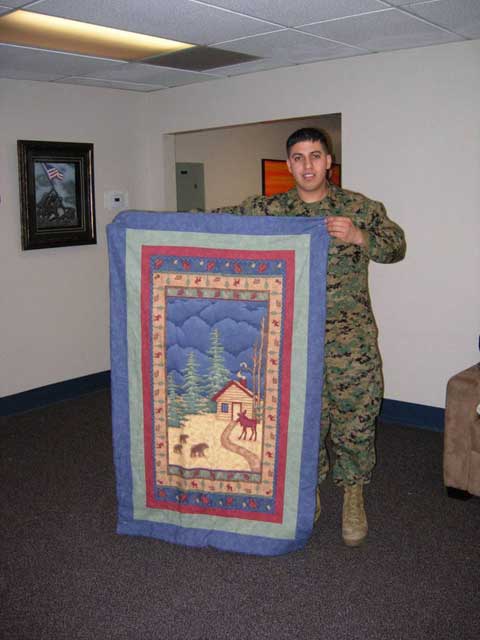 This is the first of some quilts with a long story attached. Last year
during the fires some quilters in Pennsylvania heard of needy families and
sent a whole lot of material in boxes to a church in Escondido. The ladies
at that church make fleece blankets for military transport patients that get
cold on the long plane flights. The materials weren't quite appropriate for
their use, but were too good to discard, so they waited until they could
find the right recipient. This year they found out about the WWB and brought
me some of the material and a whole lot of tops they found tucked in the
material boxes. With my promise that the tops would go to the WWB, they left
them in my care. Most are small, but are perfect for the children of the WWB
Marines. Kelli, a very special lady, visited me and found out about these
small tops, taking several of them to her home to finish. This is one of her
completed quilts from the donated tops. Now if
that isn't a long, convoluted path to great recipients, I don't know what
would be. They were being looked over closely as several of the Marines have
new babies and were very interested in small quilts for their families.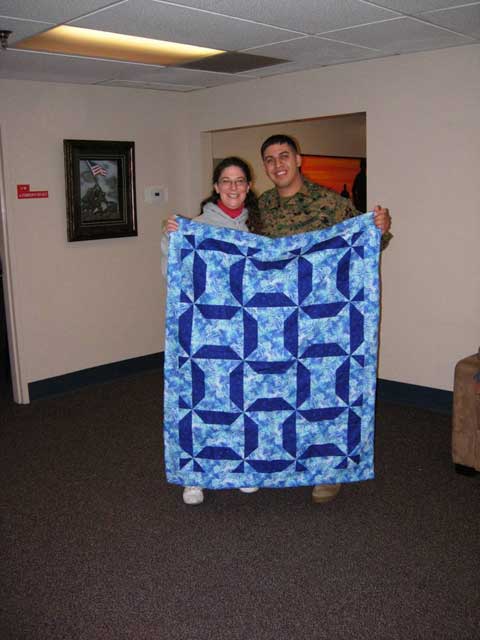 Kelli and the new WWB resident with one of the donated tops she finished
with wonderful Hawaiian prints.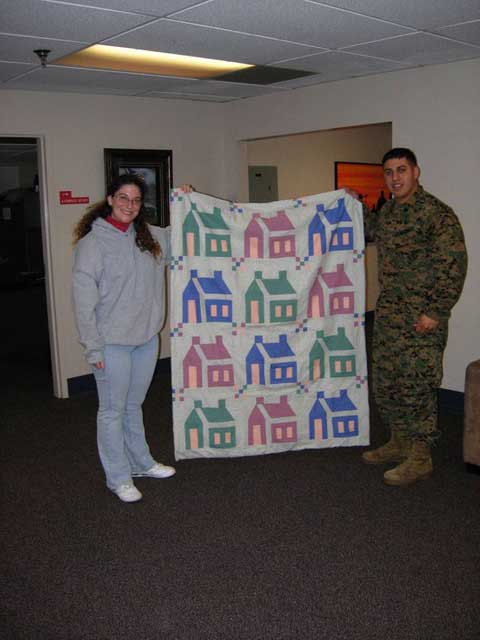 A third of the donated quilts – all those pieces in the house just needed to
go to a special home. The church ladies in Escondido will be happy to see
the completed quilts.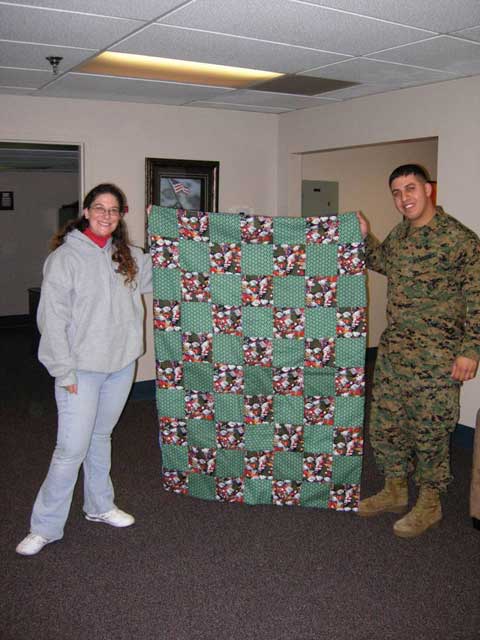 Kelli made this one herself with lots of Christmas fabrics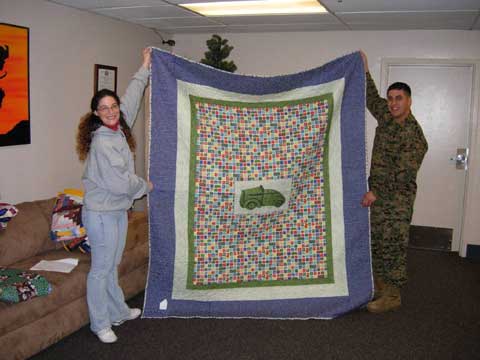 This top, complete with backing material, was already machine quilted, just
needing the binding sewn. I did this during the past month. That car will be
treasured by some little boy…and so it is another of the church donated
quilts.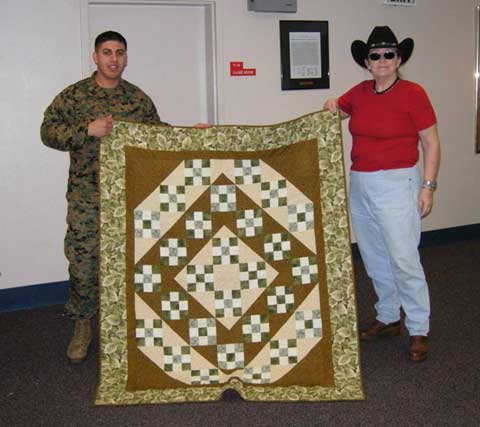 This beauty was sent by Dee K from Colbert Washington.

Nice use of dark, manly colors – another sent by Dee K from Colbert
Washington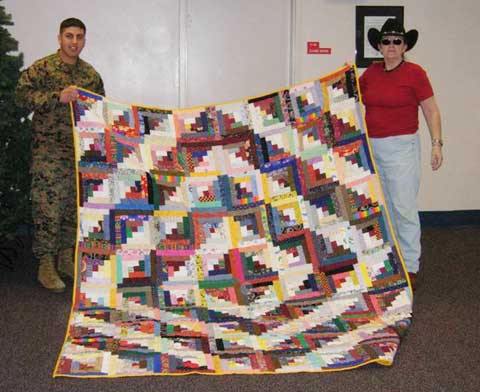 One of my own log cabin scrap quilts. Did you notice that I'm finally
allowing photographs of me – after 60 pounds off. Only 40 more to go!!
The WWB was really busy. They have moved offices of the staff Sgts – AGAIN.
Don't know how they get any work done with having to move repetitively. See
the Christmas tree in the corner? No decorations yet, but they were all
getting in the mood.
There were also several baby blankets that Kelli made that I left in my
craft room. Guess with the Material Girls' quilt I left home and the baby
blankets I'll have to just force myself to make another trip before
Christmas???
Thanks for all you do in support of these wonderful Marines. Have a peaceful
holiday period (if possible) and enjoy time with friends and family.
Therese Thomas
Enrolled Agent
Thomas Tax Preparation
30457 Valley Center Rd
Valley Center CA 92082
(760) 751-2542 (home office)
(760) 749-3794 (home)
(760) 860-5301 (fax)
(760) 803-4299 (cell/text) Phone doesn't ring in the house but texts arrive