Another trip to the USMC base Wounded Warrior Battalion!!
This time I took all from some folks and partial trip from others, as I'm
pretty occupied with doing taxes for the Marines, but I manage to slip in
photos during lunch time. News: there are currently about 60 residents and
clearly not all of them will fit in the 26 bed facility. Some are in nearby
barracks and others live at local homes, but all report to the WWB for daily
duties and appointments. Groundbreaking ceremonies are planned for the 27th
of this month on the brand spanking new 200 bed facility and complex. They
anticipate that is might be just one year but probably will be 1.5 years of
construction then they'll move to the new digs across the road. Meanwhile I'
m having heart palpitations when I hear 200 beds…..Praying for generous
folks to build up inventory in anticipation of the increased demand. It will
probably not be possible for every bed to be covered with a homemade quilt
with those numbers, but we can only pray
and hope???
So what DID I deliver this trip??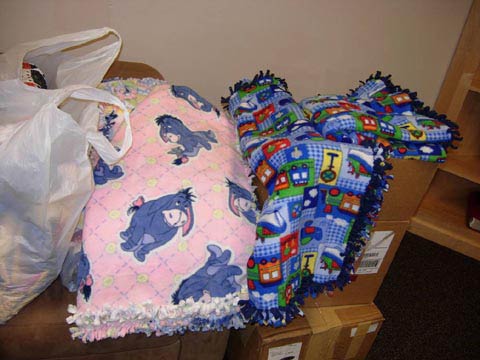 Kelli from Lake Elsinore sent two girl and two boy baby blankets, and once
again they disappeared immediately.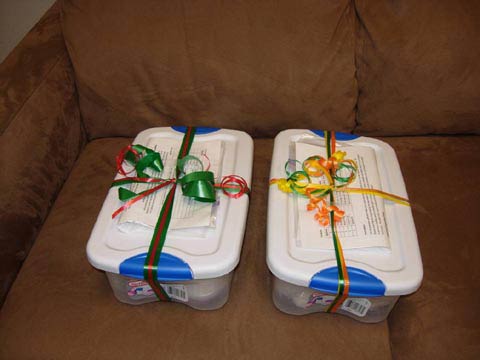 Allana W from Malibu sent four GREAT craft kits, all packaged up and
inventoried so the kids could play and then have a home for the stuff at
cleanup time!! Comments on these were that lots of presents came at
Christmas but this was **after** and the kids liked getting prezzies all
year round – and mom's like having something to occupy the kidlets. Good
job.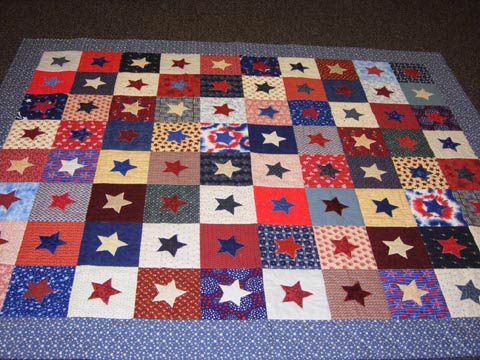 Ruth A from Webster, New York sent this beautiful appliqué quilt. The
amazing patience to do all those darn stars!!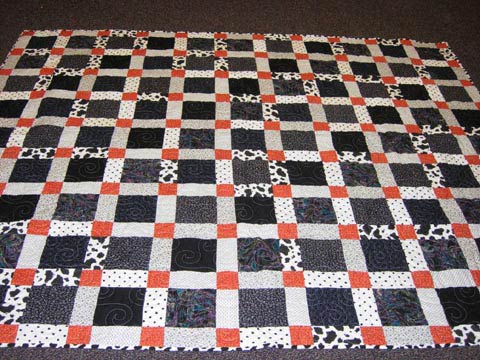 The Luseno Chapter of the DAR (Daughters of American Revolution) all pulled
together and made these next three beautiful quilts, all the 80 x 100 size
recommended for full/double beds. It was a communal effort and the piece
work, design and assembly was great! The ladies did a bang up job for the
Marines! Several of the guys really laughed at the cow patterns used on
this quilt.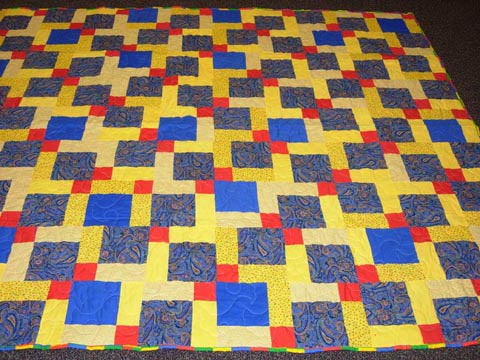 The second DAR quilt – bright and cheery!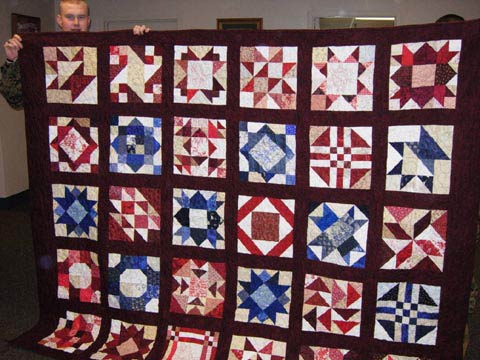 Third DAR quilt – and finally got some Marines to help me photograph them.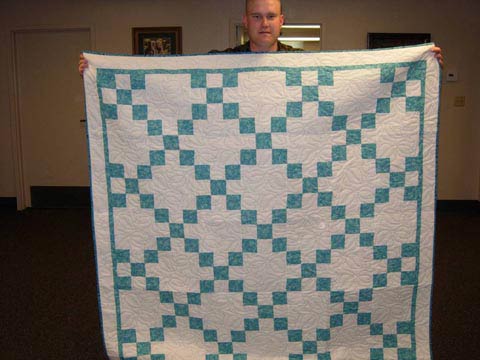 The next set of eight quilts were from a HUGE box sent by the Santa Rosa
Quilt Guild. Those ladies really produced some snazzy quilts. They sent two
boxes but I will deliver the second box to the base on the next trip for tax
preparation. My truck interior was stuffed full and it was raining so didn't
want to put a box in the bed of the truck (yes, I know, excuses, excuses…)
By now you KNOW how much I like 9-patch quilts?? And such intricate machine
quilting really set this quilt off.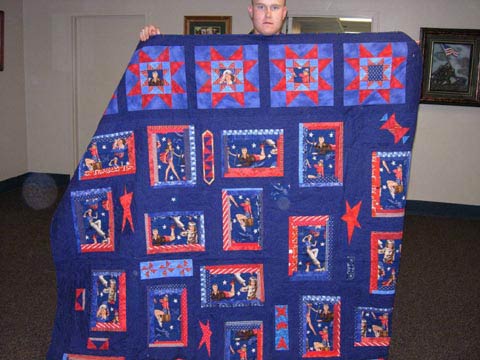 Pin up girls!!! The guys really drooled over this one….#2 from Santa Rosa QG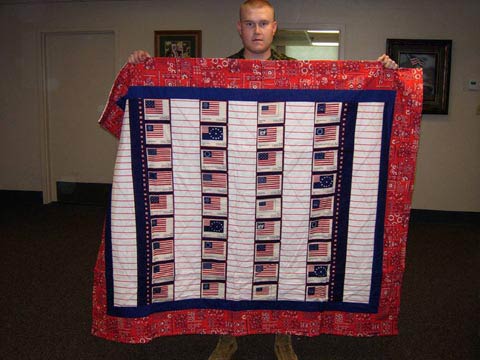 #3 from the Santa Rosa QG. Historical flags and bandana material – very
popular with the guys.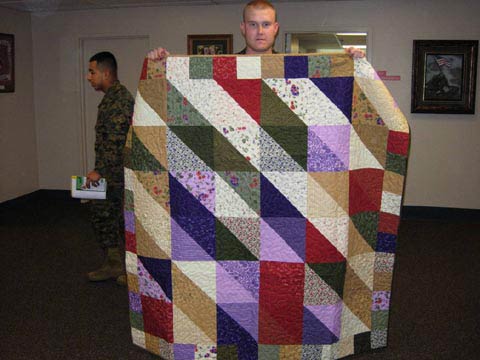 #4 from Santa Rosa QG. Another great scrap quilt, showing that very
different colors can be combined into a thing of beauty!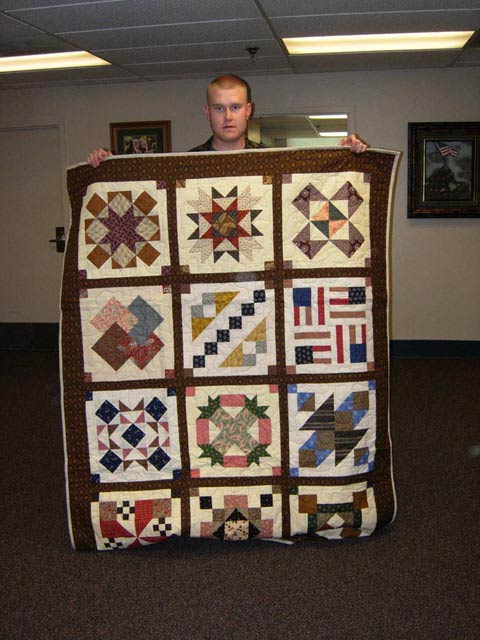 #5 from Santa Rosa QG. Look at all the piecing work in the sampler quilt!!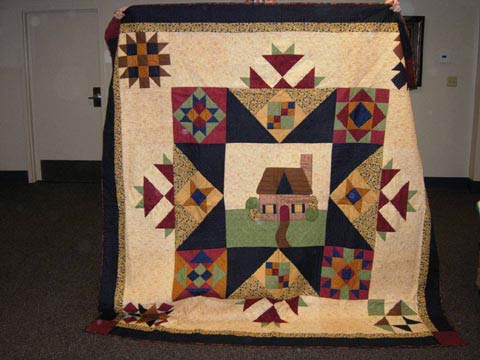 When the Marines saw the house in the middle they were quite impressed. They
're getting opinionated and discerning, having seen so many quilts pass
their way. #6 from the Santa Rosa QG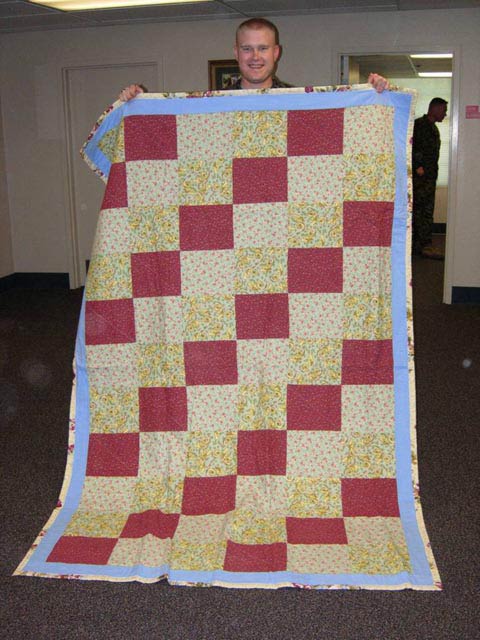 #7 from Santa Rosa QG – simple bet pretty and such nice mitering on the
corners…. And that's SSGt Stringer in the background .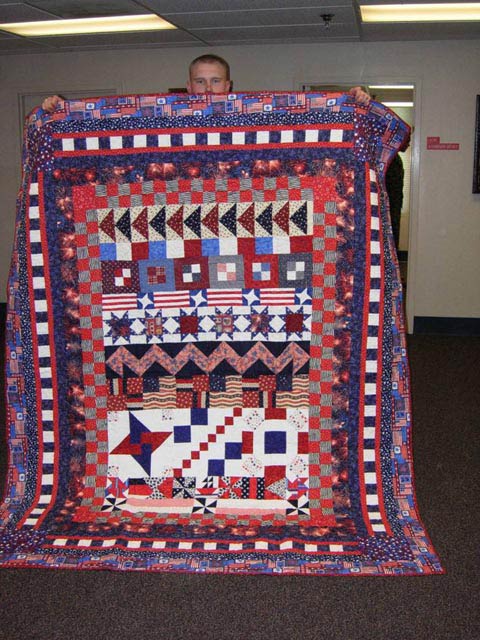 #8 from Santa Rosa Quilt Guild. Such a busy design and the patriotic theme
was really liked…
I cannot profess my thanks enough for all the work that you folks are doing
out there. These residents at the WWB look pretty healthy as they are
walking and talking, but so many of them have experienced traumatic brain
injuries that take **forever** to heal. The salve of comfort that these
donated quilts provide cannot be calculated in any monetary fashion – just
know that your works are truly appreciated. Each and every one provides a
little piece of the stepping stones on their pathway to health. Thank you
from my harried but happy heart…..
Therese Thomas
Enrolled Agent
Thomas Tax Preparation
30457 Valley Center Rd
Valley Center CA 92082
(760) 751-2542 (home office)
(760) 749-3794 (home)
(760) 860-5301 (fax)
(760) 803-4299 (cell/text) Phone doesn't ring in the house but texts arrive