Community Quilts Donates raffle quilt to the Santa Rosa "Living Room"
The Santa Rosa "Living Room" is a daytime drop-in shelter for homeless women and
children. While it is felt the women who utilize the shelter wouldn't be able to care for a
quilt at this time in their lives, the staff did like the idea of a quilt to raffle at an up-coming event.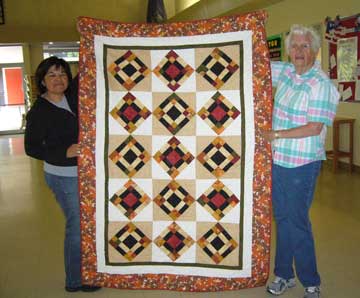 Caroline Banuelos, Volunteer Coordinator for the Living Room, and Diane Cox, one of many volunteers, accept the donated quilt.