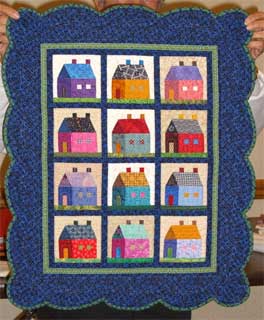 There have been a few items added to the supply list for the Technique Sharing Workshop, "Hand Quilting", practice – part 2 of 2 with Mitzi Dowling and Marilyn Swanson on August 7th.
The supply list can also be downloaded as a PDF file from the TSW (technique sharing workshop) page on our website. http://www.santarosaquiltguild.org/tsw.php
SRQG 2008 TECHNIQUE SHARING WORKSHOP – 7/17 & 8/7 Marilyn Swanson and Mitzi Dowling
HAND QUILTING – INTRODUCTION (7/17)
TOPICS COVERED:
First Session:
Batting
Backing
Basting
Marking
Second Session:
Thread length
Knot
Starting
Loading needle
Ready – begin!
HAND QUILTING – PRACTICE (8/7)
SUPPLY LIST: (these were discussed in the first class)
Assemble and thread-baste quilt sandwich before you arrive:
1/2 yard of soft, plain light colored muslin that has been pre-washed
cut into 2 pieces 18" x 22" or 18" x 18"
batting, 18"x18" or a little bit larger
plain thread for basting
1 regular sewing needle, large eye (for basting)
be sure back is taut when layering
(or 10 safety pins–medium to large – for basting. Not preferred method as safety pins can be in the way of hoop.)
Bring to class:
Basted quilt sandwich
hoop: 14" (no larger); buy the best one you can afford
thimble(s) that fits securely
1 or 2 quilting needles, size 10 "betweens"
quilting thread, any color
scissors for cutting thread
12-18 inch ruler
design marker (pencil, pen, etc.)